Is erasable printing set to go mainstream?
Despite the long-heralded prospect of the 'paperless office' most offices continue to print documents. Toshiba is hoping the launch of its 2nd Generation erasable printing system will herald a new way to cut down the paper consumption that is driven by the everyday functioning of business and government.
With the new release Toshiba has addressed some limitations of the e–STUDIO306LP/RD30, its first MFP with erasable toner launched in 2012. This MFP introduced a special erasable toner, but the toner could only be erased using a separate de-inking station that added considerably to the MFP's footprint. It was also limited to printing the erasable toner only, so you needed at least two MFPs to cater for both erasable and permanent documents.
This has been addressed with two new MFPs that print black prints as well as erasable blue prints within one device. The new "eco-conscious" MFPs essentially enable users to use the same paper multiple times when printing with Toshiba's proprietary Erasable Blue Toner (EBT), which is erased using heat generated by the MFP, or erased by an optional paper erasing unit, the e-STUDIO RD301.
The new e-STUDIO3508LP (35ppm in black) and e-STUDIO4508LP (45ppm in black) both print at 35ppm speeds in erasable.
There is a slight premium on the erasable toner which costs about 10% more than standard black toner, but Toshiba claims that businesses can reduce paper usage by up to 80% per year, assuming the same piece of paper is used 5 times instead of once, with a huge reduction in paper costs.
Each time a piece of paper is erased, the Toshiba system prints a tiny dot that is invisible to the human eye and allows the system to keep a record of how many times it has been erased. Toshiba recommends that paper can generally be erased up to five times, although the system keeps track up to 10x and can operate to this metric. 
The new MFPs come with a large customisable tablet-like user interface, which gives easy access to the print, scan, copy, fax and erase functions as well as access to document workflow.
Centralised administration functions can enforce "eco-friendly" printing practices. The rule-based printing feature allows administrators to define multiple rules for automatically selecting the toner mode (blue or black) by application. 
So, an administrator could determine that printing from Outlook is always routed to erasable, as printing of email is generally for review only and the paper can afterwards be fed back into the printer where the toner will be removed, allowing the blank paper to be reused again.  Ditto for "Draft" documents and internal memos.
You can even introduce erasable paper for documents or forms that require wet signatures or handwritten notes via Pilot's Frixion pens and highlighters. These pens use ink that is usually erased by the heat generated from a hard rubber eraser on the tip of the pen, although the Toshiba system will also wipe it clean.
Toshiba cites industry research that shows 89% of documents are used within 1 week, after which they are discarded.
For users paranoid about retaining printouts of emails or draft documents, the optional e-STUDIO RD301 erasing station now includes a scanner. This can be used to scan and route erasable documents to a document repository for review or retention before erasing text and images printed on them. 
The RD301 also automatically sorts paper into resusable erased documents, and non-reusable documents – the latter of which may contain black ink marks, for instance, that can't be erased. It erases paper at up to 30 ppm. 
http://www.toshiba-business.com.au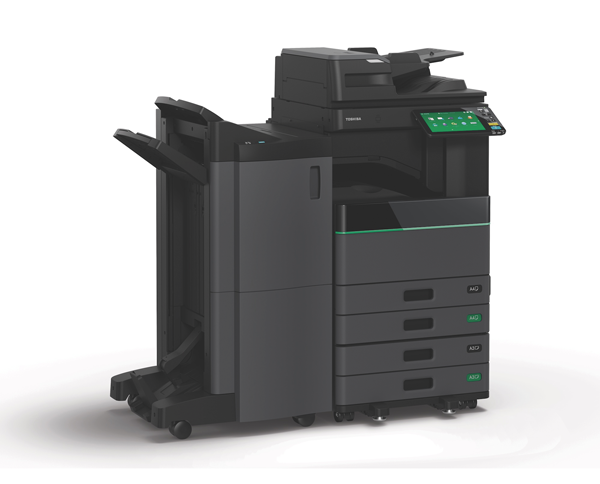 The Toshiba e-STUDIO4508LP offers combined print, scan, copy, fax and erasable print functions and a dual scan document feed that holds 300 sheets while processing documents at a speed of up to 240 images per minute.